Paola Scamihorn and Paola Palenstini's book is an easy to follow guide to the Mediterranean diet with simple recipes designed for the 21st century.
The diet includes a variety of simple frugal foods: fruits and vegetables, eggs, legumes, olive oil, fish, small amounts of meat and complex carbohydrates. Whole and ancient grains are encouraged. Processed foods are discouraged. Desserts are limited to semi sweet homemade ones.
Eating out three or more times per week is considered a "bad habit". The lifestyle diet includes drinking plenty of water, spending time in nature, sleep and bonding over a meal.
The second half of the book is devoted to recipes, categorized by:
Breakfasts
The Red Rice and Fruit Pudding was described as one to make on the weekend when there was more time. There was a timely process and I used three countertop appliances before the meal was completed. It was worth the effort-the "meal" was delicious.
"It is better to eat at breakfast and lunch. Breakfast is the most important meal of the day."
Starters
I enjoyed the combination of goat cheese, pomegranate seeds, pears and walnuts. This was easy assembly.
Lunch
The Mediterranean Salad (this one for two) was easy to assemble. I cooked the potatoes, green beans and eggs in advance.
Dinner
The Baked Vegetable Frittata was a little different from the crust-less quiches I normally prepare. I whipped the egg whites separate and folded them into the yolks and vegetables and I liked the result. I also enjoyed the peas and carrots in the frittata.
Dessert
The Apple Ricotta Cake was a real treat.
There are few pictures in the book. I had to study the procedure before making items I'd never tried. Once tested, I enjoyed the "new" items. Portions were more than adequate. There is a nice variety of beef, seafood, poultry, egg and legume recipes. I especially appreciate the recommendation to always speak to a qualified registered dietitian nutritionist or physician before making dramatic changes to your diet.
Thank you Hatherleigh Press for the complimentary review copy. The above post and pictures are my own. I received no other compensation for this review, other than the pleasure of creating meals and eating!
The Mamma Mia! Diet
Great Recipe Ideas for Summer

(New York, NY):
Based on an improved version of the classic Mediterranean diet,
The Mamma Mia! Diet
provides you with modernized versions of healthy Italian dishes to help you lose weight while still feeling full and satisfied.
The Mamma Mia! Diet
brings the health benefits of a Mediterranean-style program with Italian flair and flavor. It is real Italian food, effective, delicious and fun. Enjoy these three delicious recipes: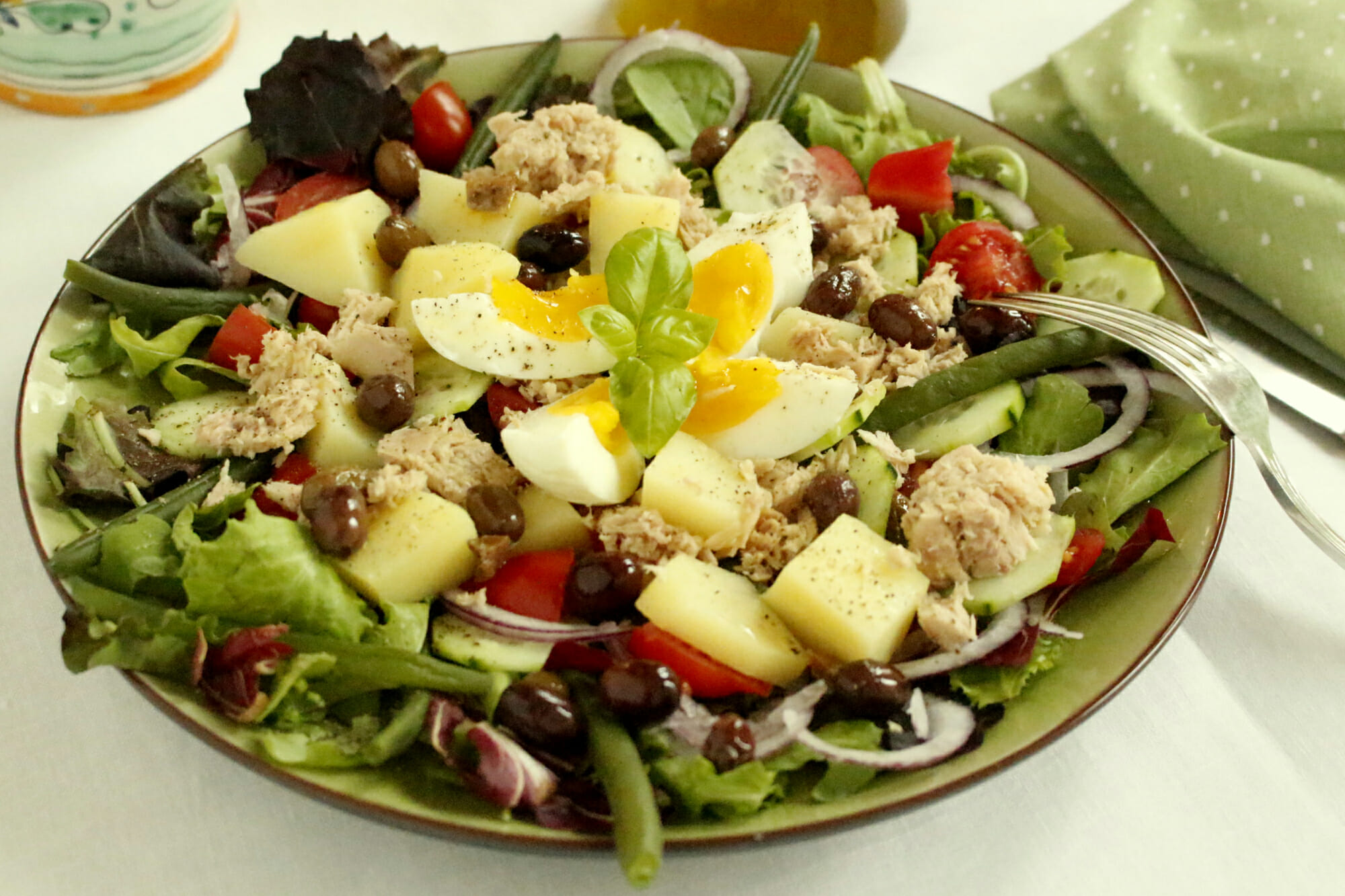 Recipe #1: Mediterranean Summer Salad
Ingredients
Mixed lettuce for decoration
4 medium potatoes
330 g (12 oz) green beans, cleaned (ends removed)
330 g (12 oz) cherry tomatoes
1 cucumber, peeled and sliced
1 red onion, peeled and sliced into thin rings
4 hard-boiled eggs
250 g (9 oz) canned tuna, drained
4 anchovy fillets in oil, cut into 4-5 pieces
Pitted olives (to taste)
4 tablespoons extra virgin olive oil
Salt and freshly ground pepper
4-5 basil leaves
Directions
Wash the lettuce and the tomatoes. Dry and set aside. In a large pan over medium heat, boil the whole potatoes for about 20-25 minutes. They should be tender but not crumble. Drain and allow to cool. Peel and cut each potato into 10-12 pieces. Meanwhile blanch the green beans in water or steam for 6-7 minutes. They should be crispy. Cook the eggs in a saucepan covered with water for about 8 minutes (counting the minutes as the water begins to boil). Drain and place in cold water to cool them. Remove the shell and let cool completely. Cut each into 4 wedges. You can prepare four individual plates or one large salad to serve at the table. Arrange the lettuce on the plate, then add the green beans, the cherry tomatoes (cut in half), onions, cucumbers, potatoes, eggs, tuna, anchovies and olives. Season with olive oil, a pinch of salt (optional) and pepper. Serve immediately.
Note:
You can replace the green beans with fresh broad beans just blanched in water and, if you wish, also add some green peppers.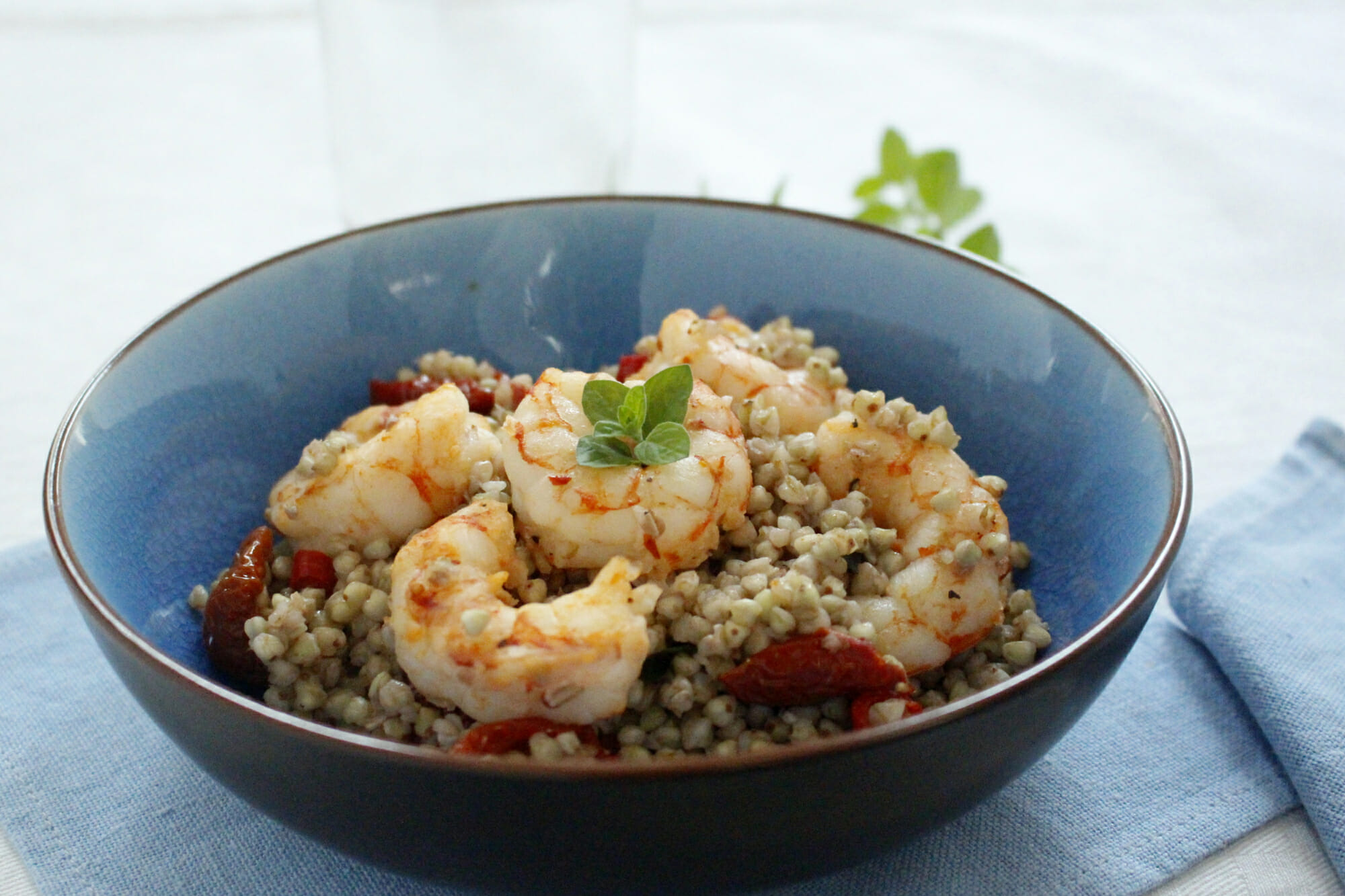 Recipe #2: Buckwheat Salad with Prawns
Ingredients
300 g (11 oz) buckwheat
20 prawns, cleaned, washed and dried
4 tablespoons extra virgin olive oil
2-3 garlic cloves
1 hot chili pepper, finely sliced
2-3 tablespoons dry white wine
20-22 semi-dried tomatoes in olive oil
10 leaves of fresh majoram
Sea salt and freshly ground pepper (optional)
Directions
In a bowl marinate the prawns with 2 tablespoons of olive oil and chili for about 30 minutes, covering with plastic wrap. Rinse the buckwheat under cold running water. Bring to boil 1 liter (1 quart) of salted water (about 5 g, 1 teaspoon salt), add the buckwheat, reduce heat and cook covered for about 15-20 minutes (according to the instructions on the package). It must be "al dente." While the buckwheat is cooking, in a nonstick pan sautè the garlic in 2 tablespoons of oil over medium heat for 4 minutes, stirring frequently. Remove the garlic. Add the prawns, wine and cook for about 3-4 minutes over medium heat. They have to become pinkish but not overcooked. Remove from the heat. In a large bowl, add the tomatoes, removing much of the oil. Drain the buckwheat and mix it with tomatoes. Add the prawns sauce and garnish with majoram leaves and pepper.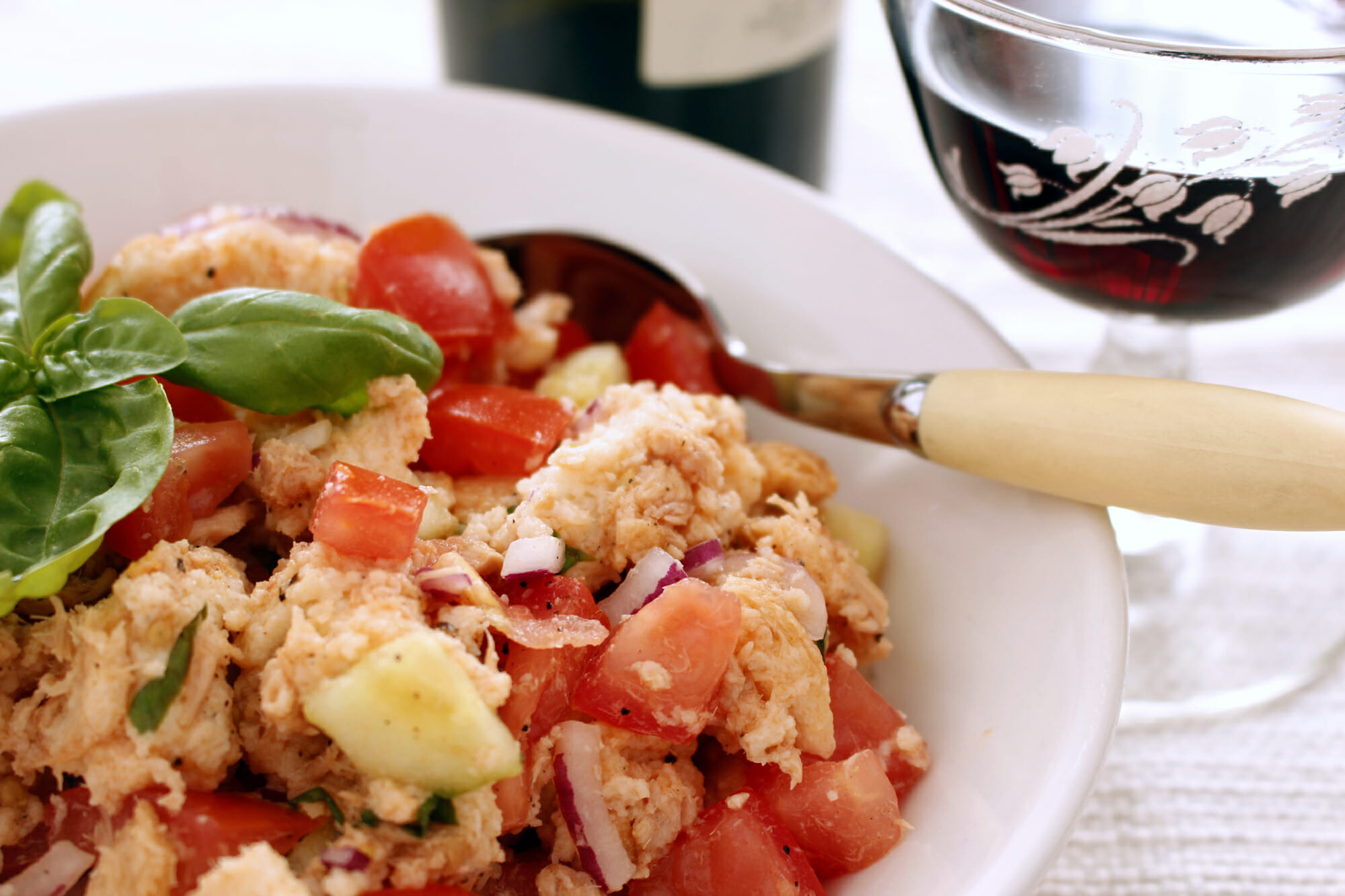 Recipe #3: Panzanella (Tuscan Bread and Tomato Salad)
Ingredients
200 g (7 oz) Tuscan bread, or whole grain bread cut into small pieces
3 Romano tomatoes, cut into cubes
2 cucumbers, peeled and cut into small pieces
1 red onion, finely sliced
120 g (4 oz) canned tuna in olive oil
2 tablespoon white wine vinegar
2 tablespoon water
12 fresh basil leaves
Salt and freshly ground pepper
Directions
In a big bowl place the tomatoes, cucumbers, onion and season with salt and pepper. Add bread, vinegar and water. Toss all the ingredients together. The bread should be wet but not soggy. Break it up with a fork. Add tuna and mix well. Taste and add more salt, pepper and vinegar, if necessary. Tear in basil and refrigerate for 1 hour. Serve cold.
Note:
Since the recipe calls for tuna canned in olive oil, no other oil is needed. If you use tuna canned in water, it is recommended to add 2-3 tablespoons of extra-virgin olive oil. You can substitute Tuscan bread with other hearty Italian breads, such as a Pugliese loaf.
# # #
ABOUT THE AUTHORS
Paola Lovisetti Scamihorn
is an Italian pharmacist, researcher and food writer. Cooking, eating healthy food and staying active have always been her life-long passions. She has a cooking blog
Passion and Cooking
, and contributes to several international magazines. She has previously published in Italy
Love is Eating
, focusing on Italian culinary culture.
Paola Palestini
is a biochemistry professor at the Medical School of the University Milano-Bicocca, Italy. Recently, Paola has been actively involved in the promotion of the principles of a healthy diet through conferences and in collaboration with several magazines. She is the author of seventy-six scientific articles published in international journals.
THE MAMMA MIA! DIET
Written by Paola Lovisetti Scamihorn and Paola Palestini
978-1-57826-732-3, $15.99 paperback
978-1-57826-733-0, $12.99 eBook
Published by Hatherleigh Press.
Distributed through Penguin Random House.
Available wherever books are sold.
www.hatherleighpress.com