When I asked for a review copy of this cookbook, I was hoping to find vegetable and whole grain side dishes I could add to our menu. There was a wide assortment of recipes with vegetables, recipes where I could add my local farm finds!
Old Fashion Cole Slaw had a very tasty homemade dressing.
Easy Summer Vegetable Bake was perfect for inclusion of those luscious squash, garlic, herbs, peppers and tomatoes now widely available in our gardens and local farmers markets.
My Mushroom Bake is based on author Catherine Gill's "Famous" Stuffed Portobello Mushroom Caps" recipe. I'd purchased a bag of a local farms' Shiitake Mushrooms at our market last weekend, sauteed them with onions, garlic, pepper and celery, then baked the vegetables with seeded cracker crumbs and cheese. The recipe called for vegan sausage (which I do not purchase) yet was delicious without it.
I did not find any whole grain recipes in the cookbook. In the baked recipes I made, I used whole wheat flour in place of whole flour.
The Pumpkin Waffles were delicious. The substitution of a flax slurry egg replacement worked fine here.
Who doesn't like Peanut Butter Blossoms? These cookies were soft and delicious. The recipes did not include a lot of added sugar.
Thank you Hatherleigh Press for the complimentary review copy. The above post and pictures are my own. I received no other compensation for this review, other than the pleasure of creating meals and eating!
Dirty Vegan
Great Recipe Ideas for Summer

(New York, NY):
Providing healthy, vegan alternatives to the sorts of delicious comfort foods that everyone craves,
Dirty Vegan
makes it easier than ever to live the vegan lifestyle. Self-styled as "vegan junk food"--healthy vegan food that doesn't skimp on taste--
Dirty Vegan
is a celebration of all the amazing tastes and dishes available to those on vegan diets.
Enjoy these two delicious recipes from the book perfect for summertime: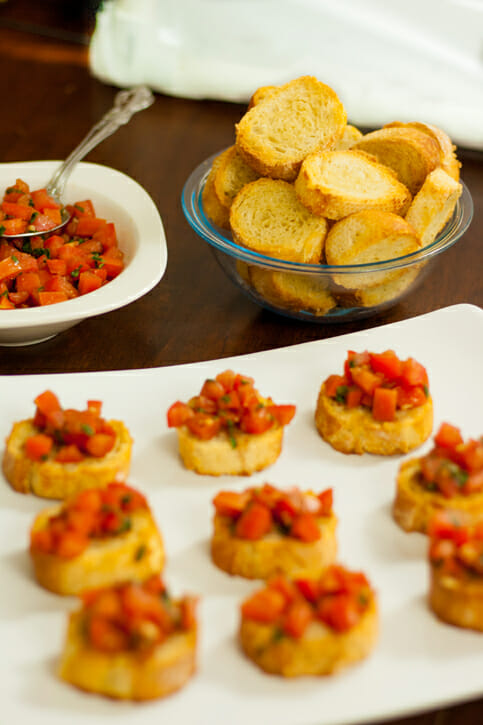 Recipe #1: Fresh and Toasty Summer Bruschetta Bites
Serving Size: Makes 2 dozen
Ingredients
1 large baguette bread loaf, sliced evenly into 24 pieces
¼ cup vegan butter, melted
8 ripe plum tomatoes, chopped
1 garlic clove, minced
1 tablespoon balsamic vinegar
2 ½ teaspoons extra-virgin olive oil
½ teaspoon onion powder
1 teaspoon sugar
2 tablespoons fresh basil, chopped
Salt and pepper, to taste
Directions
Preheat oven to 450°F and arrange bread slices evenly on two ungreased baking sheets. Brush bread with melted butter and bake for 5–8 minutes, or until toasted. In a large mixing bowl, combine tomatoes, garlic, vinegar, olive oil, onion powder, sugar, basil, salt and pepper to taste; mix until thoroughly combined. Arrange toasted bread slices on a serving platter with tomato mixture spooned on top. Alternatively, you can serve tomato mixture in a bow with a serving spoon in it, alongside toasted bread in a basket.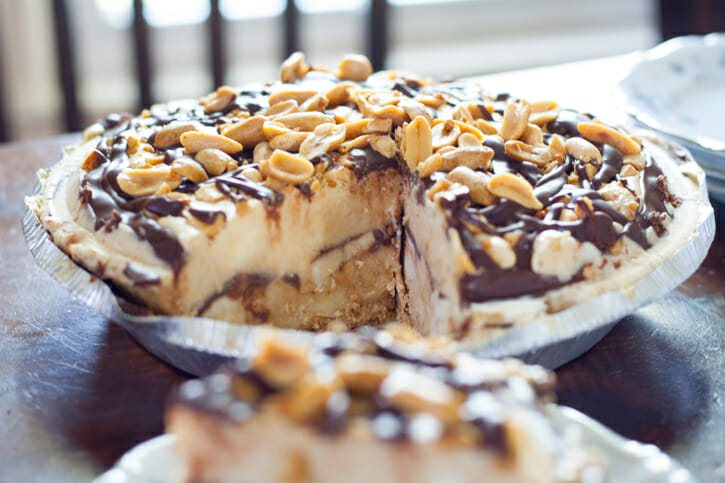 Recipe #2: Chocolate Peanut Butter Banana Ice Cream Pie
Serving Size: 8
Ingredients
½ cup creamy peanut butter
¼ cup maple syrup
1 quart vegan vanilla ice cream, softened
1 prepared graham cracker pie crust, 9 inch size
½ cup and 2 tablespoons peanuts, chopped
1 rip (but firm) banana, thinly sliced
½ cup vegan semi-sweet chocolate chips
2 tablespoons vanilla vegan soy milk
1 tablespoon coconut oil
Directions
In a large mixing bowl, cream together peanut butter and maple syrup; combine with ice cream. Spread half of ice cream mixture evenly in pie crust. Sprinkle an even layer of ¼ cup of the chopped peanuts on top of ice cream layer and arrange banana slices evenly over top of peanuts. Place in freezer while you make chocolate ganache. In a small saucepan on low heat, melt chocolate chips, soy milk and coconut oil together, stirring frequently. When well combined, remove ganache from heat and set aside. Remove pie from freezer and pour on a layer of half of the chocolate ganache; spread remaining ice cream mixture on top of that. Lastly, sprinkle ¼ cup chopped peanuts and the last of the chocolate ganache. Sprinkle with last 2 tablespoons of chopped peanuts, cover with lid (that accompanies prepared pie crust) and freeze overnight or until firm.
# # #
ABOUT THE AUTHOR

CATHERINE GILL
is a writer, blogger, and holistic vegan chef who specializes in natural and health foods. She studied and found her passion in writing, literature, and social science in college. She runs the popular blog The Dirty Vegan since 2010, focusing on comfort-food-style vegan recipes that are fun, accessible, and healthy. She also ran Dirty Vegan Foods, a vegan bakery specializing in veganized versions of classic desserts. She has an active social media presence with over 26K followers on Twitter (@TheDirtyVegan) and 10K followers on Instagram (@TheDirtyVegan_Official). She currently resides in New England with her husband, daughter, and rescue dog. Learn more at
www.TheDirtyVegan.com
.